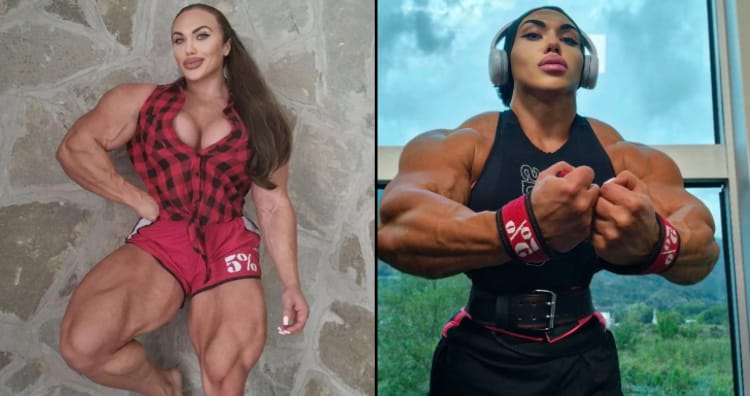 Nataliya Kuznetsova isn't just another ordinary member of the female bodybuilding community. Kuznetsova boasts massive muscles that dwarf that of most other bodybuilders. Aside from female bodybuilders, very few men can successfully compete with her for muscle size. She also holds the title of being the most well-known professional female bodybuilder in the world. The 5-foot 8-inch tall athlete has been known to reach a bodyweight of more than 100kg during those off-seasons.
Nataliya was skinny in her teenage.
However, things haven't been the same since the beginning with Kuznetsova. The now 31-year old absolute muscle-monster was once a tiny, skinny teenager . She was often bullied for being skinny. She stated in her interviews that when she started training at 14 years old, her body weight was merely 40 kgs! She's even posted pictures of her early training days. But she has also confessed that she has great genetics and observed tremendous results during the very first year of her training. This led her to wonder how far she could go, and the result today is astonishing! Today she weighs more than double the weight that she started with.
Nataliya is a pure muscle diva with massive 19.2 inches biceps.
Nataliya sports huge muscles that can put even a lot of male bodybuilders to shame. She sports humongous biceps that measure around 19.2"! Her other muscle groups are also very well defined. Her chest measures 51.2 inches, thigh 21.2 inches, hips 29.5 inches, with a 27.9 inches waist and 68.1 inches height.
However, Nataliya Kuznetsova was initially inclined toward combat sports. She started her journey to become a powerlifter, which is why she started hitting the gym regularly to gain weight. However, one thing led to another, and Kuznetsova ended up following the path of bodybuilding, where she earned herself quite a name.
Nataliya follows a strict fitness regime.
Nataliya Kuznetsova says that she is highly conscious of her fitness and thus adheres to a suitable diet plan that includes seven meals a day! She consumes protein every few hours to ensure that she gets sufficient nutrition for her big muscles. Apart from this, she also includes a lot of chicken breast, beef, and fish, along with oatmeal, whole wheat, corn, sweet potatoes, brown rice, and much more.
She avoids consuming fat and therefore prefers skimmed yogurt, milk, cottage cheese, and similar dairy products. Apart from a heavy protein diet, Nataliya also spends several hours working out in the gym every week to maintain the perfect muscle shape and size.
Nataliya Kuznetsova's Career
Her outstanding physique has helped Kuznetsova win various championships. And it all started way back in 2007 when she had just started bodybuilding. She won consecutive titles at Baykal Grand Prix in 2007, prompting her to build excessive strength and pursue powerlifting.
She won the Cup of Eurasia 2014 (powerlifting and arm lifting) and became a record holder for both these events. She also won the NAP bench press world championship the same year and created a record. Nonetheless, in 2018, Nataliya went back to bodybuilding and won the IFBB WOS Romania Muscle Fest Amateur title in the same year. It earned her the Pro Card. The following year, she managed to secure second place at IFBB Romania Muscle Fest Pro Women's Bodybuilding.
Nataliya is immensely popular on social media.
Nataliya Kuznetsova enjoys a tremendous fan following on social media, which is unsurprisingly normal for one of the most muscular women on the globe. Her social media fan-following erupted enormously during 2018 and 2019, when she accomplished two of her biggest achievements. Currently, she has over a million followers on Instagram and over 50K followers on Facebook.
Most social media users follow her to see more of her stunning and powerful muscles. Nevertheless, it is natural for a woman with massive muscles to garner attention on social media. But it never means that the attention she gets is always constructive and positive. The Russian muscle diva is often the target of mean and harsh comments. Some mock her for her looks, while some criticize her for having big muscles.
However, Nataliya doesn't give a dime about her haters and prefers to focus on her remarkable journey that has brought a 14-year-old skinny girl a long way to become one of the most muscular women in the world. Her story is the perfect example of an underdog winning.
Here are some more female bodybuilders who can give a tough challenge to Nataliya.
1

Andrea Shaw
Andrea Shaw hails from the USA. She began bodybuilding at the age of 17 and received guidance and great support from her mother, a former personal trainer and nurse. Andrea possesses a degree in Exercise and Sports Science. She appeared in five shows during 2018 and earned herself a NPC Nationals Pro Card.
Andrea placed first in Lenda Murray Detroit Classic-2018 and second at the 2018 Nationals. Lenda Murray, the bodybuilding legend, advised Andrea to switch from physique to bodybuilding. Considering her advice, Andrea entered as a bodybuilder at the 2019 Chicago Pro, where she lost first place to Aleesha Young by a single point. She won 2020 Miss Olympia and Miss Rising Phoenix, two of the biggest tournaments of her career.
2

Yaxeni Oriquen
The American-Venezuelan Yaxeni Milagros Oriquen-Garcia Perez is a professional bodybuilding champion who won the Ms. Olympia title in 2005. She is the only Venezuelan-American to win this title. Yaxeni also won five Miss International titles in 2002, 2003, 2005, 2008, and 2012.
The 54-year-oldd Yaxeni has over 20 years of experience in bodybuilding, weight training, and nutrition. She says she loves training and leading a healthy lifestyle to stay young and motivated.
3

Helle Trevino
Helle Trevino is a Danish/American who earned her Pro Card in 2004 at the age of 27. She sustained severe injuries during her first appearance at the Olympics that same year. The doctors said she herniated her multiple disks and that she would never be able to compete again.
Nevertheless, it did not stop Helle from pursuing her passion, and after a long rehabilitation period of eight years, she finally made a complete recovery. Not just that, she went on to win the FIBO Pro Germany 2011 and Wings of Strength Rising Phoenix World Championship (2017 & 2019).