Life in movies is often perfect. The situations we see on screen, even the most bizarre or absurd, are always resolved in some way. But we know that nothing that happens in the movie for an hour and a half is real. In fact, reality can not only be imperfect, but even more Any cliches.
We Share these movie moments that have absolutely nothing to do with real life.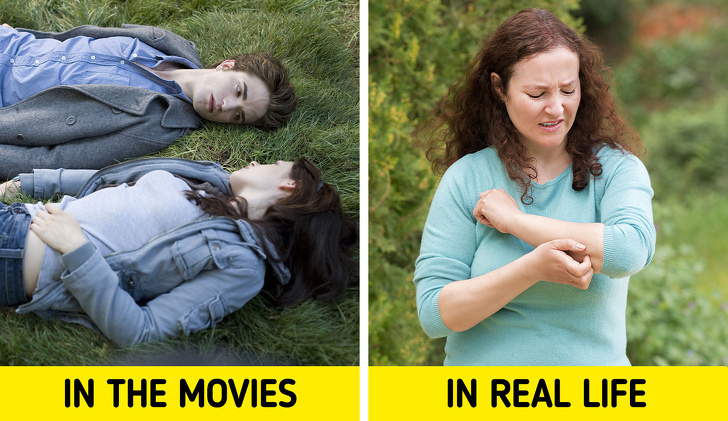 In a musical, a character suddenly interrupts the scene and spontaneously starts singing in the middle of the audience.
Digging a hole in a comic seems easy enough. The soil glides in smoothly and tough jobs are done in seconds. We are sure that none of this will happen in reality.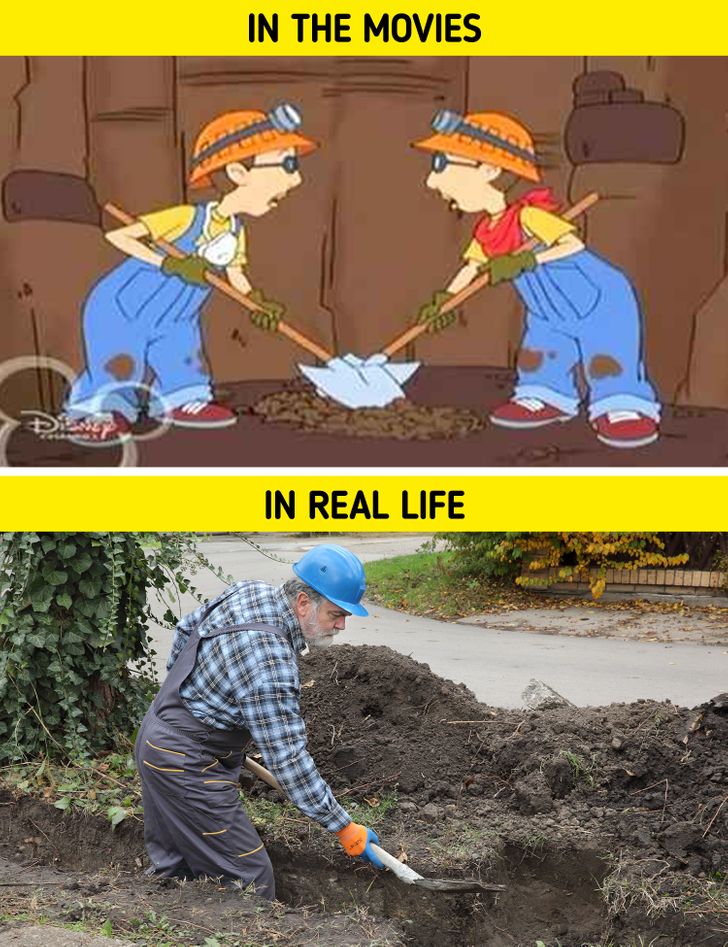 Superhero landings: ouch, the knees!
When the moment moves, the character spends all the budget in the world painting and repairing the house or apartment.
And the hardcore training scene: the character goes on a diet and suddenly has a perfect body. In fact, transformation is a long process. There are no quick breaks or background music to inspire you.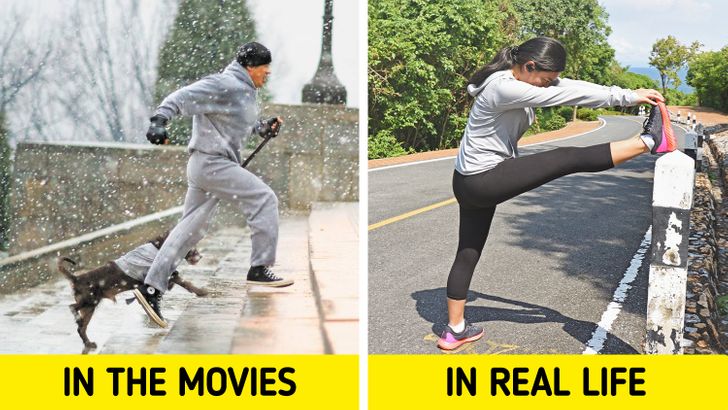 In a long-running romantic drama, there is a lot of conflict and anxiety that in real life can sometimes be resolved within 10 minutes of a phone discussion.
If a character goes to a theme park, the movie doesn't show them having to wait over an hour to get into the best rides or how expensive the food is there.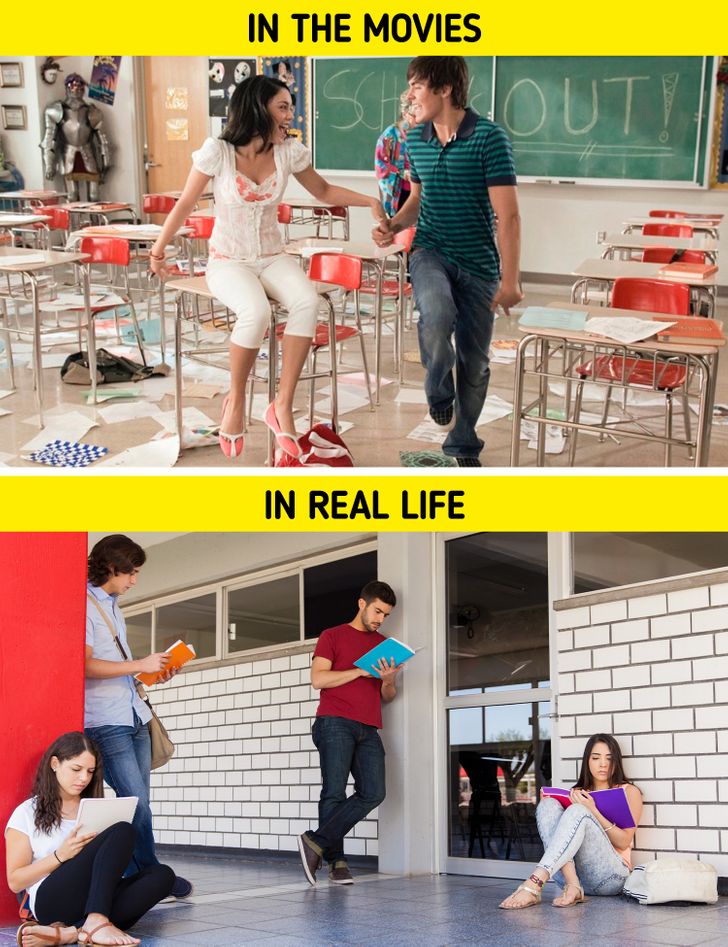 When several characters are in the coffee shop, we can't hear any other dialogue in the background because the extras barely move their lips. Sorry, Starbucks at 9am is noisier than that.
Jobs in film fiction often seem more interesting than in reality. People say things like "I write postcards" as if such a job makes enough money to even pay the rent. Why?
Not to mention what Hollywood thinks archaeologists do every day…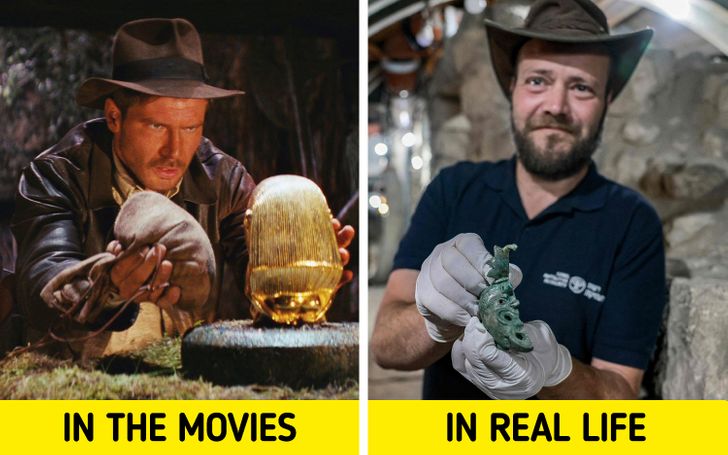 Fictional families get together for breakfast in the morning and dinner in the evening. In real life, sometimes the only souls we encounter in the kitchen are dogs.
In the scene inside the car, the driver never complains about the road conditions.
Babies in movies are often surprisingly well behaved. Are they kidding? Real babies cry over anything.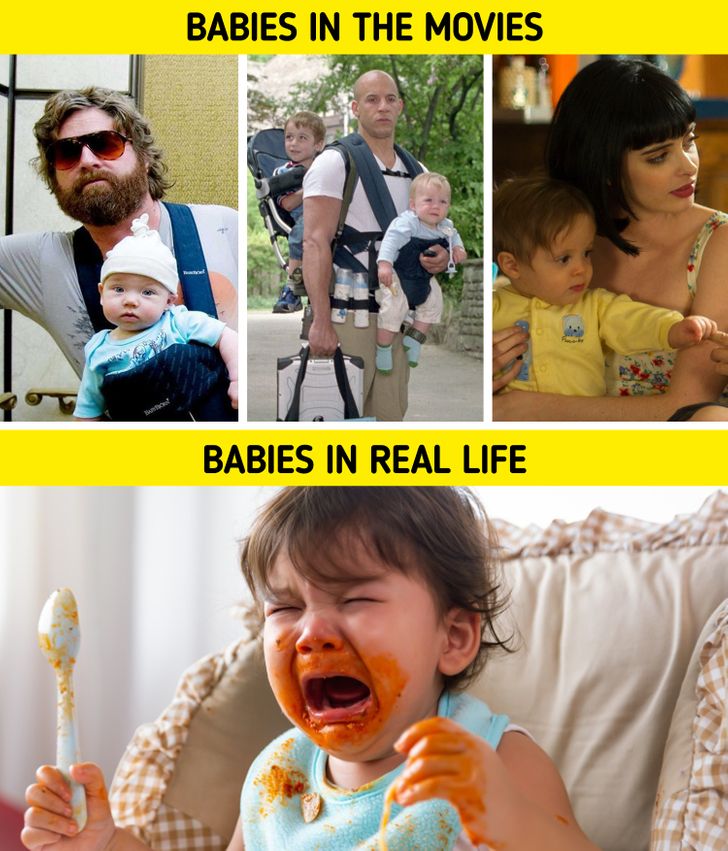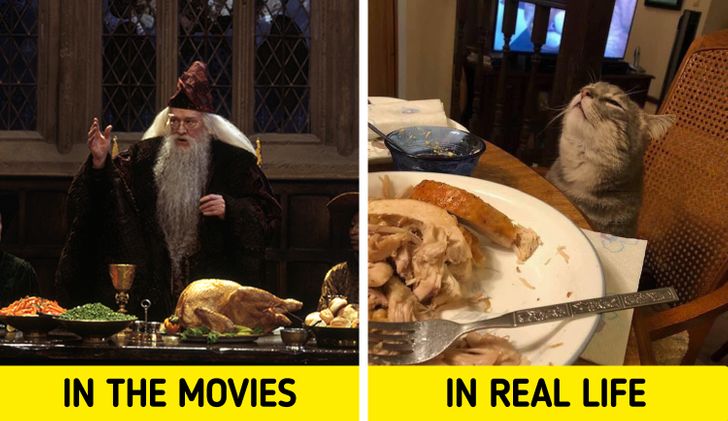 We'll only say one thing: fight on the roof of a train.
Walk away slowly, something explodes behind you…
Inviting the whole school to throw a big party at home sounds like a cliché from a teen movie. Here it is: In reality, this means picking up a lot of dirty dishes and trash.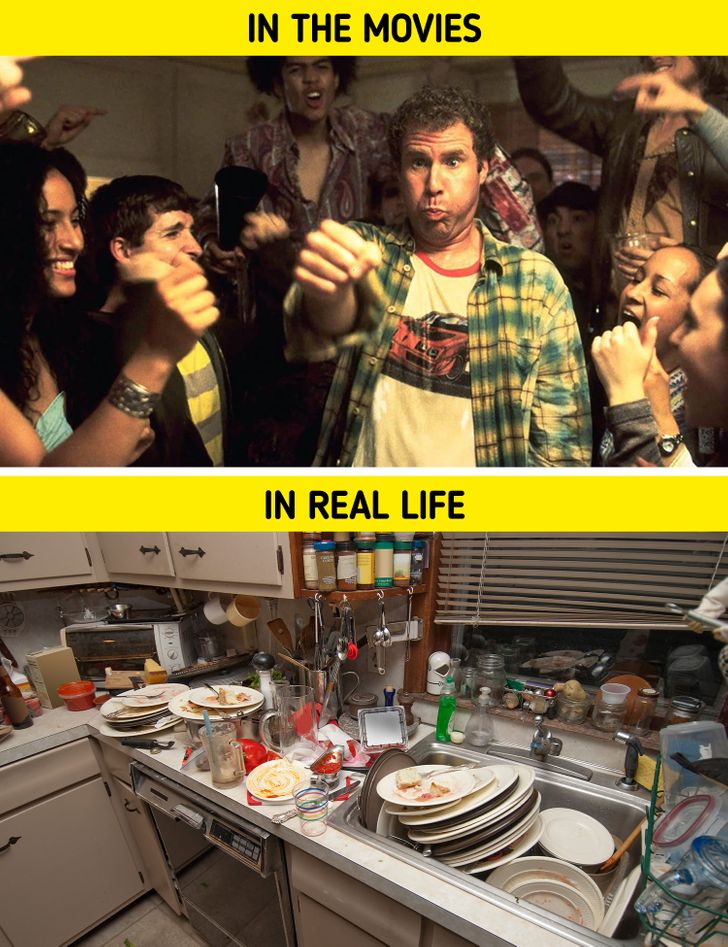 Kiss right after waking up. in real life…
In the movies, breaking a window with your fist is brutal and easy. In real life, it would definitely land you in the emergency room.
In the movies, doing anything in the snow seems great; those all-white landscapes and scenes of people having fun in them are nothing like reality. In fact, not only is the snow very cold, it can cause a runny nose and foggy goggles, and sometimes the snow isn't always fluffy It looks more like dirt than snow.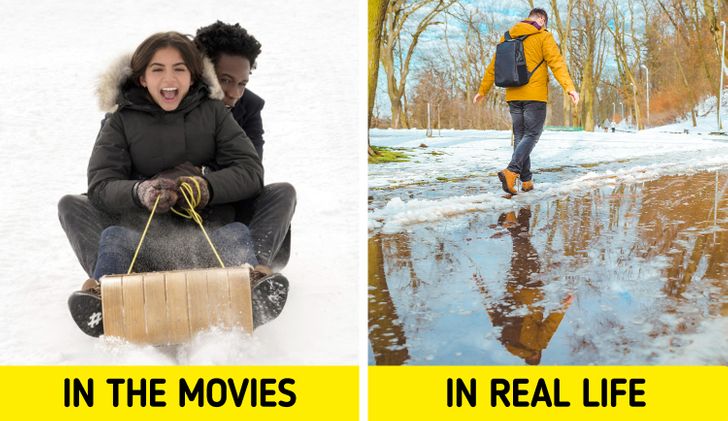 What other clichés do you think Hollywood is peddling to us about things that happen in very different ways in real life?